COURSE OBJECTIVES
Descriptions of ABC by ABC participants: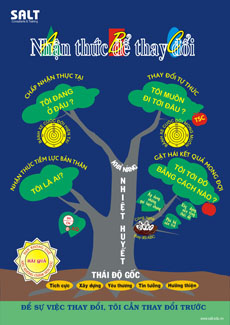 "ABC is a personal change strategy program .
For things to change, I must change first,
For my organisation to change, I must change first."
"After attending ABC, the burning desire for success blazes up in our heart
s and the teamwork spirit is internalized into every single thought, feeling, and action."
ABC is the first Mind Power franchised program in Vietnam. It assists people and organisations to be more successful in their personal and professional lives.
You cannot avoid CHANGE, you can only delay it. Come to the ABC program to unleash your hidden potential and actively CHANGE to be more successful and happier in life.
COURSE OBJECTIVES
After the course learners shall:
Be consciously aware of the great need to change on a daily basis to be successful in life (change in thinking, feeling and actions).

Understand of planned change and forecast the problems they may encounter in change period;

Strengthen your mind power in order to overcome obstacles to change; build an empowering belief system and work out an action plan to follow your Mission and Vision.

Understand to the utmost the value of Teamwork in your personal life and career.

Have the mind set of highly effective people.
Benefits for organisations:
Prepare for the staff about the concept of change and changes in management, operational and supporting system to ensure the synergy, consistency and effectiveness across organisation;

Strengthen the team spirit and team work in organisation;

Gather staff who share a common vision, common values, and a common language to create exceptional performance. Individual ego coinsides with organisational pride;

Changes in the competency of staff to ensure that they acquire knowledge, skills, attitudes and values needed to deliver their mission;

Understand the thoughts and feelings, visions and goals of employees in order to better utilize an organisation's manpower resources.
COURSE CONTENT
Lesson 1: Learning to change
Self awareness leads to individual change.

Lasting results come from profound decisions.
Lesson 2: ABC's of change
Very new understanding and feeling about change.

Blocks to change and your determination to overcome them.
Lesson 3: First question: Who am I?
The unlimited power hiddenin each person.

Know your mind and the four levels of your exsitence as well as how to control your habits and attitudes to achieve the results you want.
Lesson 4: Second question: Where am I?
Know where you are before moving ahead.

Reflection and whole-hearted sharing of obstacles and visions by participants.
Lesson 5: Third question: Where am I going?
Lesson 6: Fourth question: How do I get there?
Lesson 7: Putting theory into practice. 30-day ABC FUFT program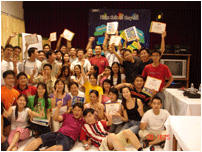 Lesson 8: Programme summary
APPLIED METHODOLOGY
This course is a good combination of indoor lectures and outdoor activities to bring out a profound and effective change in participants' life and work.
Applied methodologies in the activities and lectures are focusing on participants' awareness to enhance participants' initiatives in thoughts and actions.
Before attending, participants shall be encouraged to find out their problems or problems arised in their corporates through Training Analysis Report and the preparation paperworks for the courses. In the lectures and activities, with the helps of our facilitators, participants shall study themselves by sharing, interacting with others through activities as discussion, play role, games, etc. More importantly, at the end of the course, participants shall build their own
action plan
for future changes.
WHO SHOULD ATTEND?
The course is suitable for all staff.
Since 2001, ABC has been conducted exclusively for Prudential Vietnam contributing to the building of an agency force and staff of more than 40,000 professionals. In 2006, SALT Consultants and Training JSC was franchised to provide ABC training to other individuals and organisations through out Vietnam.
COURSE INFORMATION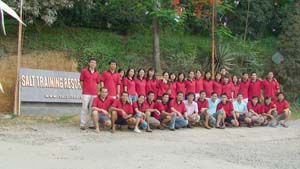 Duration: 2-4 days (8h – 17h)
Location: Resort, out of city
You may use the following forms to register online or request for more information. You can also download our brochure for futher study.
We are always ready to meet and discuss your specific training needs and budget, in order to develop the best, results-focused courses.